EXPEDITION PHOTOS
VINTAGE ROVERS ACROSS AFRICA | TRANS-AFRICA EXPEDITION
The following photos are organized into two sets, The first set was digitized in 2015 from old negative film that had never before been released. The second set was the original phots released during the trip and uploaded to the web site directly from Africa. We are in the process of reviewing more lost film in the hope of releasing additional material in the future.
Set One: (released Fall 2015)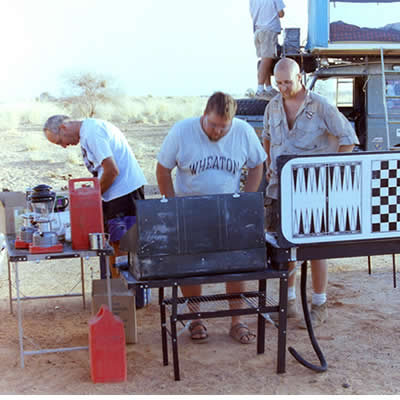 EXPEDITION CREW MAKE CAMP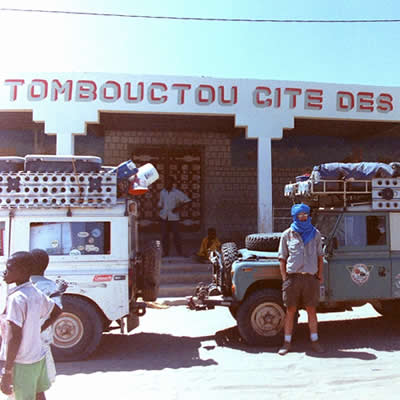 A Harsh Road To Timbuktu Mali
SAND COVERED STREETS OF A FAR OUT DESTINATION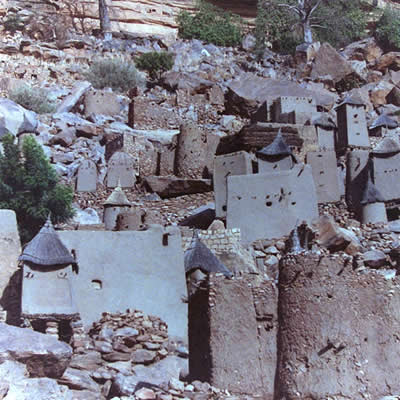 MALI & THE CLIFFS OF BANDIAGARA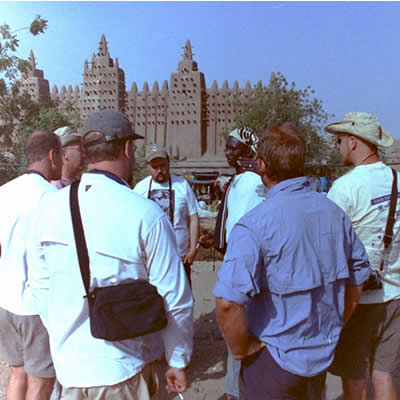 Djenne Mali & The Mud Mosque
THE CREW EXPLORES THIS ANCIENT CITY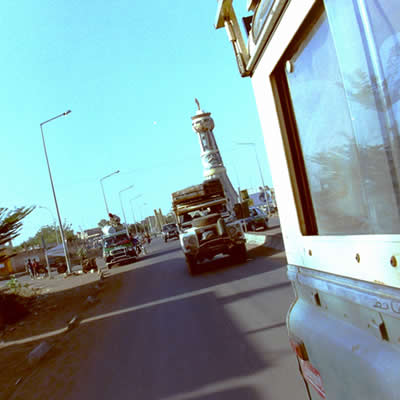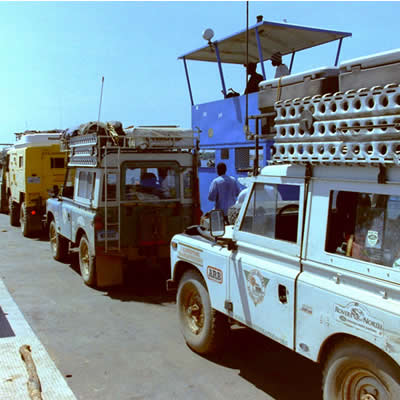 The Road Toward Bamako Mali
EASTERN SENEGAL & WESTERN MALI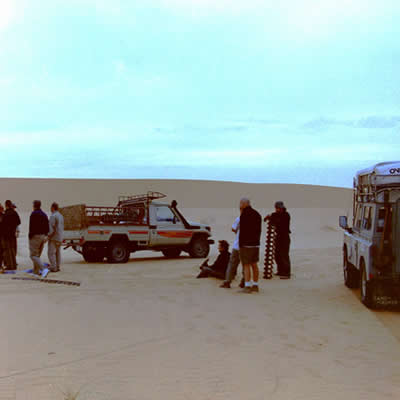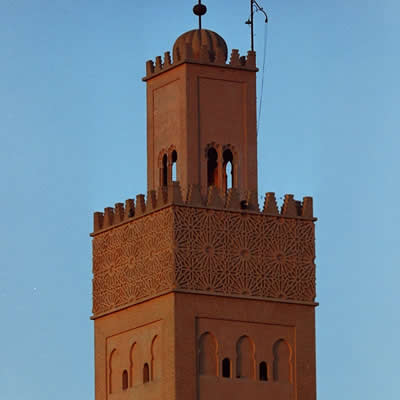 Marrakech & Agadir Morocco
THE OLD CITY & A BEACH RESORT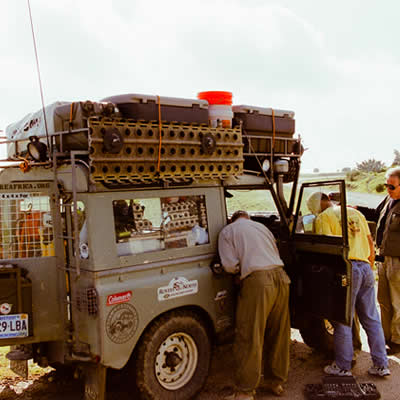 GIBRALTAR & NORTH AFRICA ARRIVAL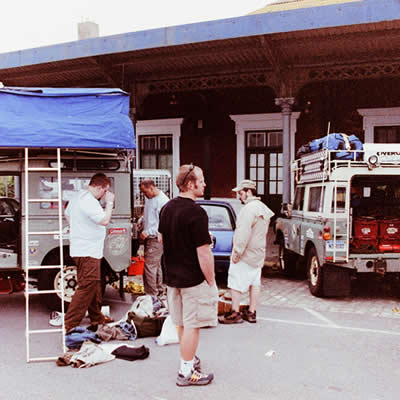 DEPARTING FOR A LONG JOURNEY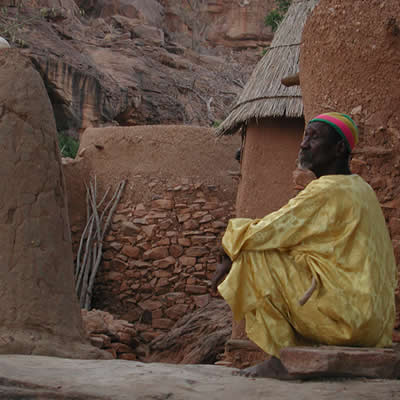 High Resolution Dogon Region
Set TWO: (original up loads from africa 2001)
The following photos were uploaded directly from Africa via satellite telephone and land line using a Sony FD-90 digital camera, a Sony TRV-520 digital camcorder, a Gateway P3 laptop computer and the wonders of the internet. Sounds kind of funny today, but it was state of the art at the time. These photos were posted "live from Africa" in the spring of 2001.
March 12, 2001 Moon over Africa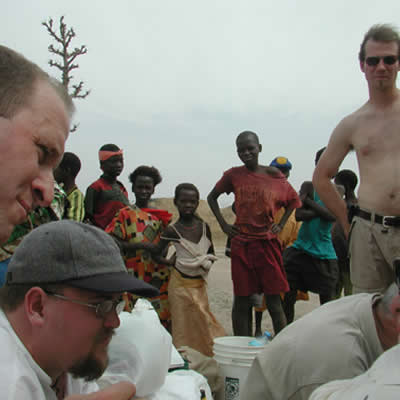 March 12, 2001 Miscellaneous Pics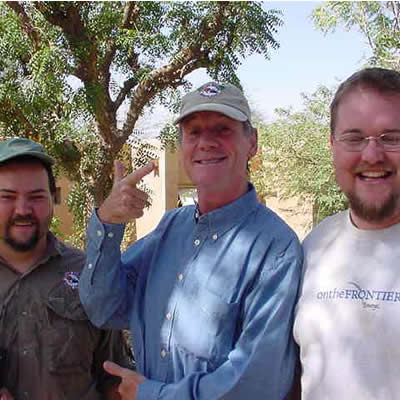 March 9, 2001 Michael Palin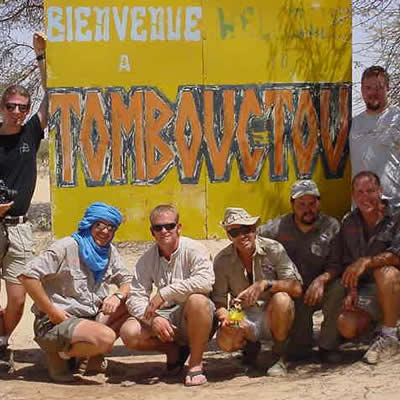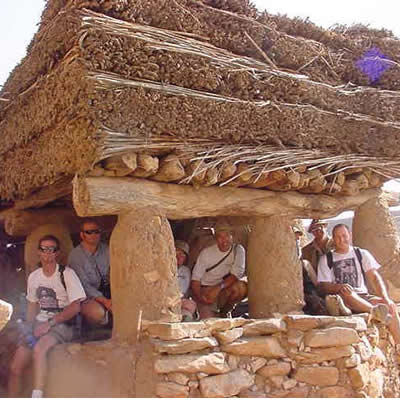 March 6, 2001 Dogon Region
March 5, 2001 The Mud Mosque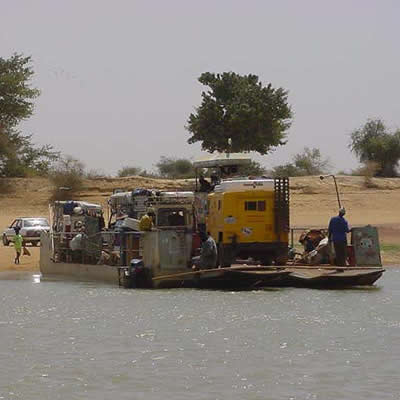 March 3, 2001 Ferry To Djenne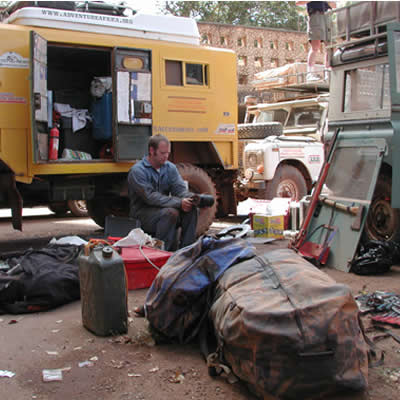 March 3, 2001 Downtown Bamako
Mid trip repairs. Bamako, Mali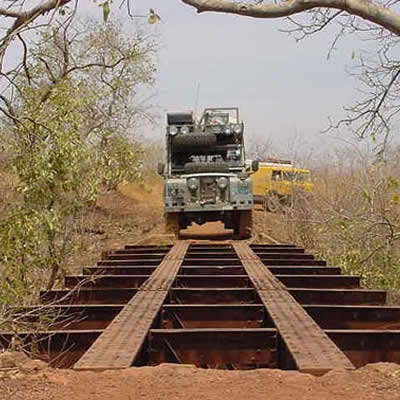 March 1, 2001 Road To Bamako
Tough road to Bamako, Mali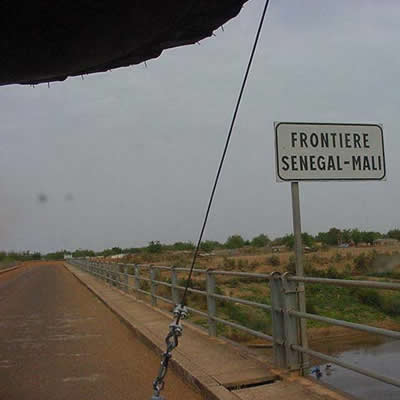 March 1, 2001 Western Mali
Senegal into Western Mali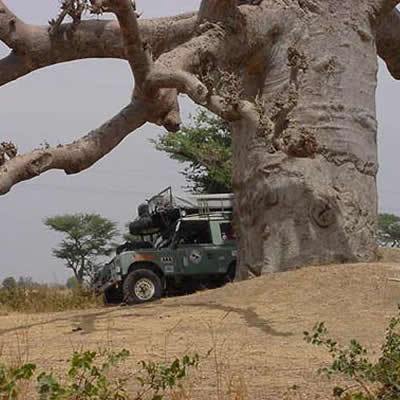 February 27, 2001 Eastern Senegal
Travels through Eastern Senegal.
February 25, 2001 Central Senegal
Truck repairs as crowds watch.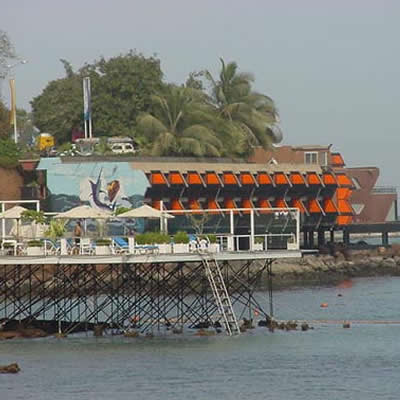 February 23, 2001 Drive to Dakar
Dakar, Senegal. The drive in and hotel sights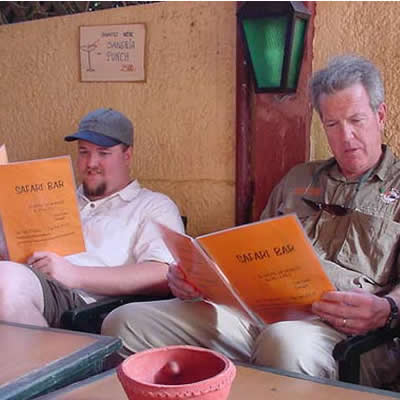 February 22, 2001 SENEGAL
Drive to San Louis and about town in San Louis Senegal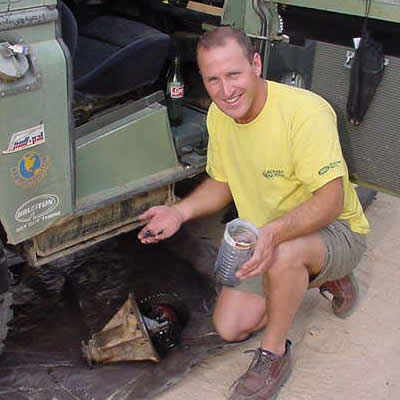 February 20, 2001 Fixing the Truck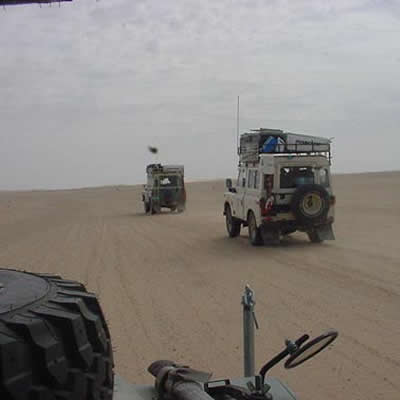 February 19, 2001 Sahara Desert
The road to Nouakchott Mauritania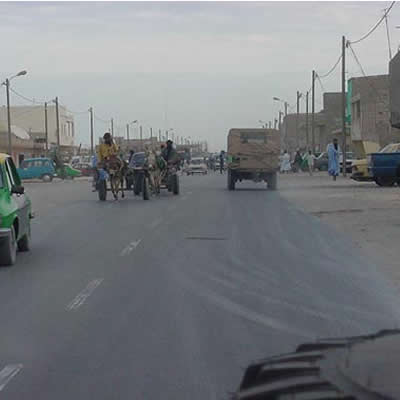 February 18, 2001 Nouadhibou
Nouadhibou, Mauritania. An outlaw post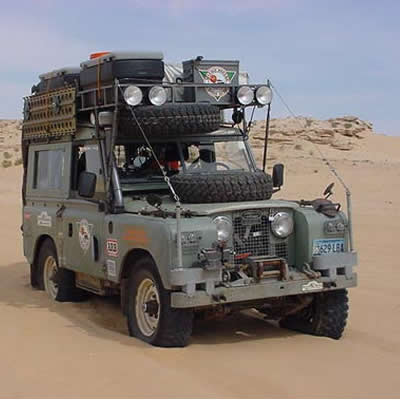 Military Convoy through a mine field in Western Sahara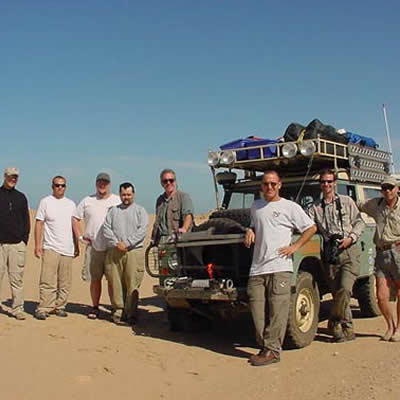 February 14, 2001 No Mans Land
Journey through Western Sahara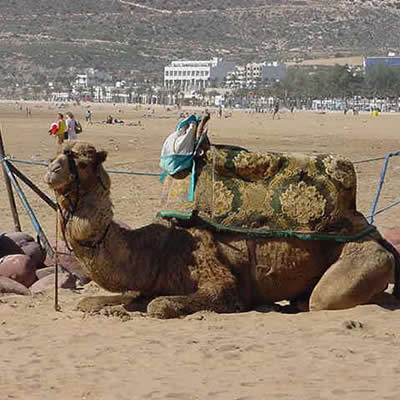 February 12, 2001- Beach Resort
Agadir, Morocco - At the Beach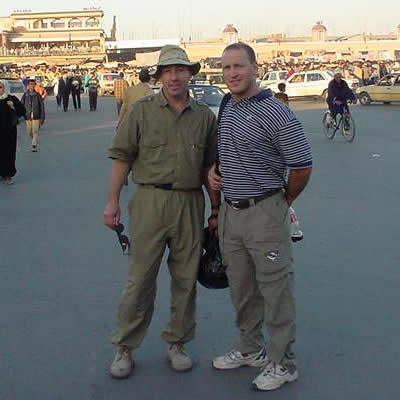 February 11, 2001 The Market
The ancient market in Marrakech, Morocco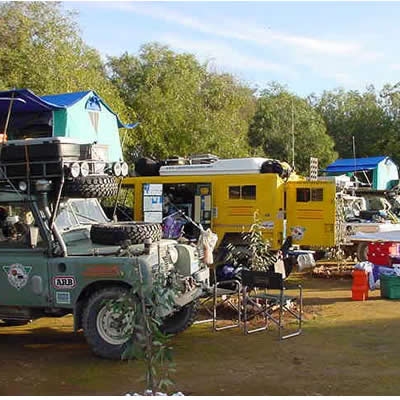 Driving to Fez and school on the way to Fez. Camping in Fez, Morocco
February 9, 2001- Africa At Last
Tangier, Morocco, ferry ride from Algeciras to Tangier & Hotel/Camping in Ouezanne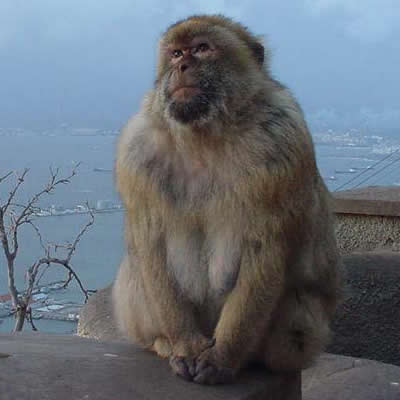 February 8, 2001- Gibraltar, The Rock
Fixing the trucks and some sights in Gibraltar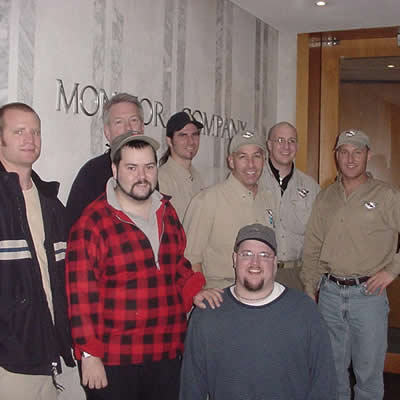 February 4, 2001- Madrid Spain
Departure from Marriott, JFK and arrival in Madrid & Cadiz Spain
February 3, 2001- Farmington, CT
USA-Farewell gathering at the Marriott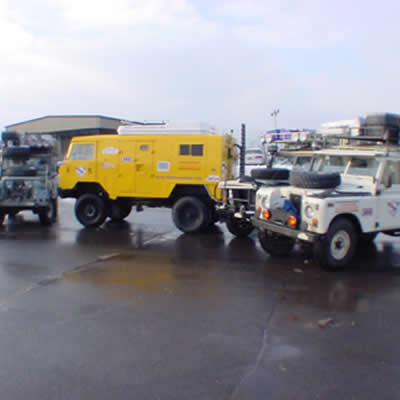 December 22, 2000- Windsor Locks
Windsor Locks CT USA, Preparing to ship the trucks & the expedition team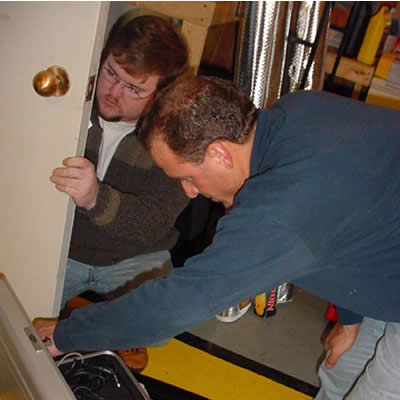 December 15, 2000- Hampton, CT
USA-Preparing the trucks at Bruce Kinzer's
All photos by Michael Ladden, Jim Leach and Ed Messenger